Warm, spaced out, classy Chicago House EP
Warm, spaced out, classy Chicago House EP
Sought-after series of Chicago house feat. remastered full 12" version of "Runner"
Giles Dickerson: That Bridge To You
Warm, spaced out, classy Chicago House EP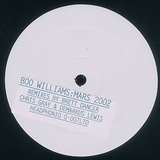 Brett Dancer, Chris Gray & Demarkus Lews remixes. white label
Reissue of eternal Chicago house
Brilliant true school Chicago House - Don't call it a comeback!
Classy spaced out jacking Chicago House at its best
Synthi disco flavoured retro house tracks