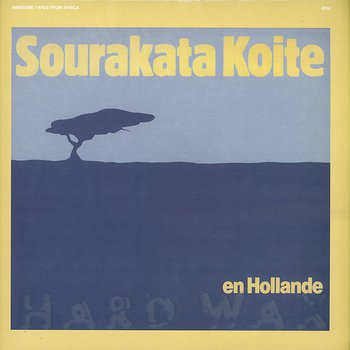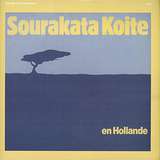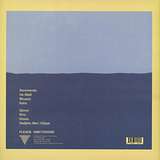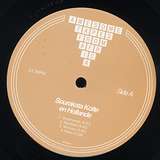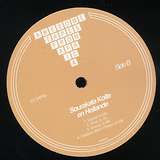 Beautiful Senegalese solo Kora album reissued
Sourakata Koité was born in 1955 in Malème, Senegal, a Malinke-speaking area. As Sourakata says, "All the Koité are musicians!" He is indeed a member of a family of djéli (or griot in french), the hereditary caste of musician-storyteller-historians in West Africa.


His musical life began early: at age three he began to play kora (a 21-string harp) with his uncle and brother; at 11 he performed with four members of his family as Les Griots (two koras, one bala, one djembé and one singer) in a piano-bar named Thiosan. When asked about his first musical memories, he replies, "We can't remember the taste of the baby bottle."


In 1977, a six-month engagement at a restaurant in Fréchencourt, France brought him to Europe, leaving Dakar where he had lived since 1975, having experienced the auspicious launch of mbalax music. He moved to Paris in 1978 to visit his brother—who was touring with the National Ballet of Senegal—and stayed in the capital on his brother's advice.


In Paris he began to play in different bands, including Les Lézards, Les Ballets Kodia, La Kola, Le Griot de Paris, among others, and for different musicians like Manu Dibango, Jacques Higelin, Touré Kounda, Manfeï Obin, Mangala, Luther Allison, Mah Damba and more. He also performed alone and in a duo with a bala (traditional xylophone) player.


Sourakata, newly situated in Paris, soaked up the new sounds he heard there and expanded his musical repertory. He began to compose his own songs and build koras, allowing him to play and experiment with different tunings. Sourakata is a true innovator in that regard: he conceived of two 37-string koras (including a double handle one), and another with 22 strings (some of which are metallic guitar strings, and that enhance that characteristic buzzy sound). Sourakata links this idea to his utilization of overdubs on some tracks during the recording of en Hollande in 1984. Additional strings expands the possibilities, he says, and also the sound of his instrument. "Kora usually has very little bass: it seems that there's a kora, but also a piano in there; they are two, four... or even five!"


Very curious and eclectic in his tastes, Sourakata listens and plays a wide range of styles—jazz, rock, reggae, funk, blues, classical. Relaxing in his apartment close to la porte des lilas in Paris' 20th arrondissement, he listens to Bob Marley, James Brown and the online Malian music station Radio Wassoulo, excited by his recent return to international performances. "People should participate during the show!," he says ; "They won't be able to hide, and it will give me courage!"


Original Liner Notes:
Sourakata Koite is a Paris-dwelling kora-player from Senegal. He is a griot, which means he is a story- and history-teller and singer. He accompanies himself on the kora. The kora is the most representative instrument of Manding music and culture. It is a harp-lute with 21 strings. The instrument is more than 600 years old and has existed in its present form for about 400 years. The griots often make their koras themselves, using a great dried gourd, a thick stick and two smaller sticks and a scraped goatskin. In the old days they used strings of skin, but nowadays often plastic fikshingline is used. The kora is held with the last three fingers of each hand at the small sticks on both sides of the strings. The strings are played by both thumbs and forefingers. With one hand the accompanying part is played and with the other the more free melody. Koite has performed in most African countries and also in a great deal of Europe.


Seremende; instrumental (S. Koite). This song is about a fetish priest who was very jealous of a neighbor called Fajala. So the fetish priest gave Fajala's soul to his gods to let hi suffer. Fajala later felt very sick and frustrated, so he decided to escape from the village in which they both were residing. On his way to another village to find a new residence, he got so tired, he decided to take a rest under a baobab tree. Sitting down with his back touching the baobab tree, the sickness that he was suffering from infected the baobab tree through the power of the gods of the fetish priest. Fajala instinctually turned around to look at the baobab tree. The fresh lively tree had gotten all dried up and the leaves began to fall. Desperate, Fajala then decided to go to one of the many rivers believed to be powerful against all other fetish powers to he could be cured. Fajala got to the riverside, went down on his knees and offered prayers to the river and then went into the river to wash away all curses thrown upon him by his fetish neighbor. Fajala got relieved and came back to his normal self and was able to find himself a happy life in his new village.


Ha-Madi; instrumental (traditional). A story about the birth of Ha-Madi. Once in a village in the 14th century there lived a rich man called Sambakilajo who had 30 wives. Among them was one ugly woman called Seera. For the fact that Seera was ugly, her husband did not allow her to live together with him in the same house with the other 29 women. She was not getting support from him either, so she decided to live in the forest where she could get her food by farming. In the village there lived a famous musician called Bambo. Bambo, knowing about the situation, decided to talk to Mr. Sambakilajo to treat Seera like he treated the other wives. So Bambo went to Mr. Sambakilajo to entertain him and his wives in their big residence. After the entertainment, Sambakilajo wanted to pay Bambo but Bambo refused to take the payment. He said to Mr. Sambakilajo that he did not actually come to entrain him that evening but to talk about the situation between him and Seera. So they talked and Sambakilajo got convinced, so he brought back Seera to live together with him and gain fair treatment like the other wives. Then they later had a child and named him Ha-Madi. Ha-Madi grew up to be a very wise king, of whom all the people in the village were proud.


Moussa; music and lyrics (S. Koite). A song for a very benevolent musician friend. People are bad, but not all of them.


Kaira; instrumental (traditional). A story about the reconciliation of two great kings, who had a long-term conflict.


Djonol; music and lyrics (traditional). A story about a female singer called Djonol. Djonol was once singing by the roadside in her village. Her voice was so good that all who heard her came around to cheer. They were so happy that they all wanted her while she was singing. Djonol would allow them but demand something from everyone who wanted to touch her.


N'na; music and lyrics (S. Koite). N'na is the name of a girl. N'na said to her mother: I'm old enough to get married, but if I have to be married I want a man who cares for me because you and my father are old and I ave neither brother nor sister.


Dioula; music and lyrics (S. Koite). Dioula is the name of a trading company. The company had enough goods for the public but was all sold out within a short time. Yet the people kept coming to ask for more, so the workers of this company had to explain to the public to have some patience, for their boss had already left to get more goods from the factory.


Hadjiatu Mari N'djaye; music and lyrics (S. Koite). This is a song to praise a Muslim woman called Hadjiatu Mari N'djaye, because she is one of the few pronounced Hadjias (an honorific associated with those who've gone on pilgrimage to Mecca) who abides very well by the Islamic culture.


On "Dioula" and "Djonol" Sourakata Koite is accompanied by Joseph Nganga (percussion, background vocals) and S.E.G. Cissé (percussion).