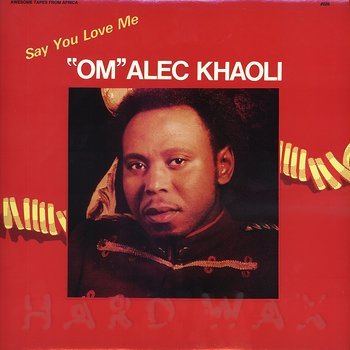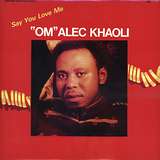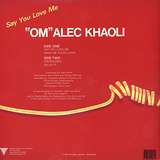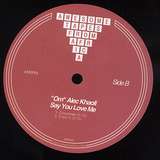 Valuable reissuse of 1985 South African Disco Pop (w/ download code)
Say You Love Me wasn't "Om" Alec Khaoli's first solo recording but the 1985 EP solidified the bass player and songwriter's standing as one of South Africa's most consistently innovative pop auteurs. He built a career on ubiquitous rock, pop and soul hits with groundbreaking bands like the Beaters, Harari and Umoja. But Khaoli's seemingly endless fountain of music continued outside these ensembles.


Khaoli released several successful solo works beginning with 1982's "Magic Touch," while he made records with Umoja and worked on other productions with friends. Driven to create, he says songs came to him quite spontaneously, and he built them up quickly, normally beginning with bass lines and then adding Prophet 5 keyboard and other synths. This creativity was aided by Khaoli's own recording studio. He was the first South African to have a privately-owned studio. As black artists were not given equal time in the white-owned studios, having his studio allowed Khaoli to develop in his own way, at his own pace. Hence his productive output during the 80's and early 90's, releasing 5 LPs with Umoja and 5 solo LPs, along with numerous singles and EPs.


The dance-floor appeal of his previous solo works was unmistakable but Say You Love Me presented things in a more mellow tenor. And the broad scope of Khaoli's listening habits shines through. He loves classical music and the harmonious, grand developments of the title track reflect that interest. Crosby, Stills Nash and Young inspired the acoustic guitar sound on "Make Me Your Lover." South African pop style mbaqanga finds echoes in "Say You Love Me." The Roland TR-707 drum machine forms the basis for each track, and the majority of instruments were played by Khaoli himself. The female vocalist on "Crosslines" was an American model named Josie who was visiting the studio the day they recorded the song and wanted to join in. The vocoder heard on that track was Khaoli's secret weapon since he was the only person in the country at the time to own one. For "Om" Alec, "Each album I make is different and the songs can come to me spontaneously." He was intellectually flexible and had his own studio in which to experiment. Each song on this recording reflects that particular kind of freedom in its own way.


The songs on "Say You Love Me" are distinct from the often saccharine hits of Umoja, but they made their way into the mainstream and onto dance floors across the region. It was often in the shebeens of Johannesburg's non-white areas called townships where dance floor hits of apartheid-era South Africa were made. These places were drinking establishments found in neighborhoods around Joburg that were reserved for Africans and Indians until the end of apartheid in 1991.


There were only 5 or 6 nightclubs for blacks and "colored" South Africans at the time, so much of the music and club culture developed around big sound systems in shebeens, where local DJs played local and international music for lively crowds spending their hard-earned pay. Migrant workers who came to the city congregated in shebeens for socializing and in the process helped propel the careers of some of South Africa's legendary pop artists. Khaoli would use a significant portion of his promo LPs allotment from the label to give DJ copies to key shebeens. The parties often went all night and he recalls hearing his songs echoing from nearby spots while in his bed late at night.


There's something broad and dynamic about the almost epic pop sound Khaoli creates on Say You Love Me. Being the first South African to take control his recording process and thereby free himself from one of apartheid's many strictures, he took his vision of music to new realms and made timeless music for the dance floor in the process.