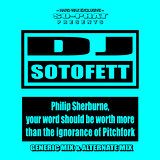 DJ Sotofett:
Philip Sherburne, your word should be worth more than the ignorance of Pitchfork
Slamming, tripped out, universal rhythm track - a true DJ weapon!
Breathtaking blend of finest Dance Hall & Grime in fresh Drum & Bass derivatives mode (incl. download code)
Avant-Techno in applied Electro-Accoustic sound research mode, enriched w/ sub bass experiments - Monolake in full effect!
Container is killing it again: raw, direct, as intense as original Techno jams
Swinging leftfield House trips