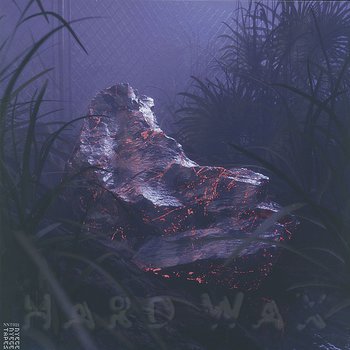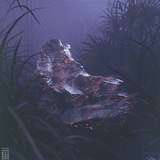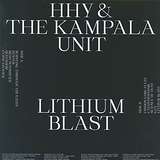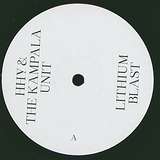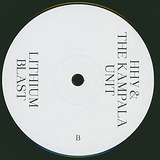 Remarkable, cinematic Portuguese / Ugandan traditional drumming infused hyper-Grime hybrid album
"Incendiary debut album on Nyege Nyege Tapes by HHY & The Kampala Unit. Initiated by musician and artist Jonathan Saldanha (HHY & The Macumbas) during his Nyege Nyege residency, HHY & The Kampala Unit is a futuristic exploration of a fresh, yet submerse territory in music mixing up dub, techno, traditional drumming and elements of trance over ghostly and unnerving cinematic passages. A collaborative venture featuring visionary Saldanha on electronics and production, fierce trumpet player and ghetto activist Florence Lugemwa joined by percussionist Omutaba on hybrid drums plus the special appearance of the Kampala Prison Brass Band.

Properly a feast for the ear, Lithium Blast lures us into a layered synesthetic cosmogony soaked in oneiric sci-fi atmosphere. Physical in its tactility and effect and highly evocative, all tracks are a gorgeous blending of cerebral virtuosity, cosmic creativity, raw energy and visceral sensuality that is majestically sculpted with haunting marching sounds, mutating percussive rhythms, variations and reprises against cascading electronics and rich, technicolor textures. A dramatic intensity builds up over time generating tension between rupture and stability, subtext and hyper-realism. Mesmerizing and infectious.

Written, recorded and produced by Jonathan Saldanha
Percussions and Kingdom Rhythms - Omutaba
Trumpets - Florence Lugemwa
Additional horns - Uganda Prison Brass Band
Additional voice - Don Zilla
Additional synthetic sounds - Diogo Tudela
Additional editing - Nicolas Esterle
Recorded at Boutiq Studio, Kampala
Mixed at Angstrom Studio and La Savonnerie Studio, Brussels by Jonathan Saldanha and Frederic Alstadt"